MediaFire Releases Major Redesign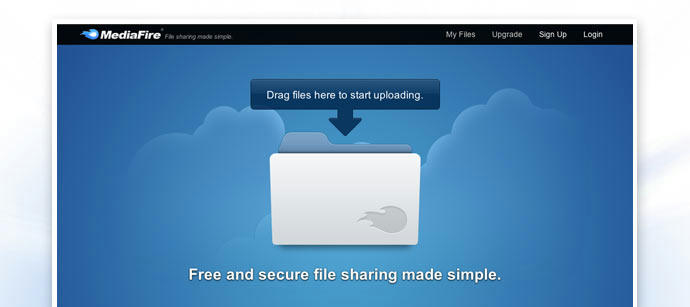 Today we're excited to announce the release of the newest version of our MediaFire platform. We've been calling this the "Spock" release internally but this marks the fifth major update to our website and services. Everyone here is really excited to hear your feedback as we continue to improve the various services we are now offering.
This update marks a major milestone for MediaFire and is the result of months of feedback and suggestions, testing and refinement, and is largely thanks to the continued input of our users and fans.
As such, we've developed an entirely new and more user-friendly and simplified interface that emphasizes easy sharing and file management. Important menu bar items are now persistently located at the top of your browser window for fast access. We've simplified and cleaned up our download pages to make it easier to get your downloads quickly. We've also greatly improved the speed that our pages load, even on slow Internet connections.
My Files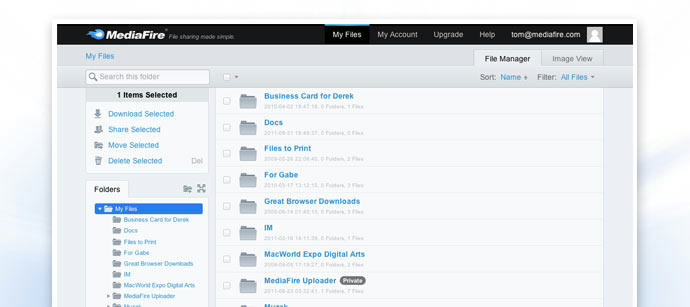 If you've already been managing a lot of files on your My Files page, you'll immediately notice a lot of updates and improvements in the new interface.
My Files data is loaded on demand and in the background instead of when the page first loads. On the previous version of MediaFire, you had to wait for all data to be loaded before accessing your files. Now your page is loaded immediately and your current view is show almost instantly.
My Files data now loads 200% faster due to a re-architecture of our data structures. This architecture update also saves memory on the client computer and makes it possible to display and search files and folders more quickly than ever before.
Right-click menu support is now enabled within your My Files page, making it easier to directly manage your files and folders from within the file list.
Pagination has been removed, all files and folders are now automatically load as you scroll down the screen.
Real-time updates now occur when a file or folder is added or changed in your account. Any changes will be inserted into your current view (if you are in the same folder) and a status message will notate the change or deletion. This occurs in 30 second intervals.
Image view has been completely redesigned to make navigation persistent in both views and make managing images and folders much easier.
Recently created folders now show up at the top of your My Files page with a blue line denoting they are new and making them easier to find and access.
Keyboard shortcuts have been added such as "N" for new folder and "U" for upload.
Forward and Back browser buttons now work within the file manager.
Sharing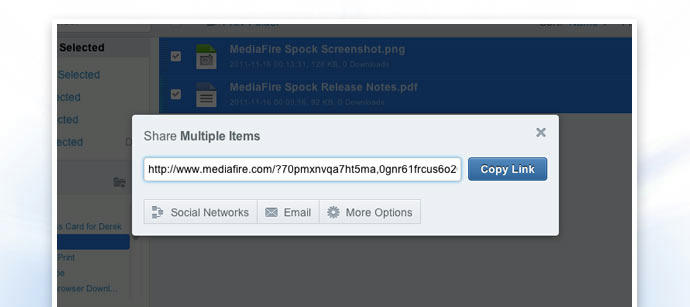 Sharing has always been at the core of what makes MediaFire such a useful service and we have some exciting updates and new features that make it even easier to share files with friends, family, and colleagues.
Linked folders are now supported. When someone shares a folder with you, you can save the folder to your account and instead of it being a one time copy of the data, the folder is linked to your account and you will automatically receive any updates that occur within it.
Multi-Share is a new feature that allows you to share multiple specific files with a single URL. This is extremely useful if you want to share 5 photos in a directory of 500 photos. Instead of sharing them individually you can now get a single link to share just those 5 photos.

Multi-Share is now supported directly from the upload tool, effectively giving you one link for all the files you uploaded instead of having to share numerous links.

Multi-Share is enabled when you select more than 1 file on your My Files page. All you have to do is select multiple files and then click the standard "Share" button which will give you one link to share all the files.
Sharing box/pop-up has been redesigned to be much simpler.
Uploader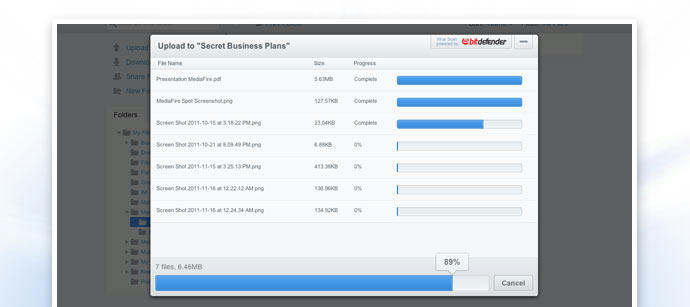 Ok, great, so now it's a lot easier to share files, but how about getting them on MediaFire in the first place? We've made some really exciting updates to our upload tools too!
Improved reliability – browsers that support hashed uploads are more reliable, we compare the hash of the file on your computer to the hash of the file our system receives. If they do not match, the data was corrupted and it will automatically re-upload.
Uploads are faster than ever.
Multi-session uploads are now supported. When you upload into multiple folders its now treated as multiple sessions. In the previous version of MediaFire you could only see one of the uploads being performed. Now you can actually select which upload session to view and/or cancel/modify.
Drag and drop uploads on the My Files page do not open the upload window upon completion.
Recently uploaded files show up at the top of your My Files view (assuming you are in the same folder) and are denoted with a blue line, making them easier to find and access.
Virus scanning has been implemented using BitDefender.
Upload options allow you to choose your default upload type: HTML5, Flash or basic HTML.
Security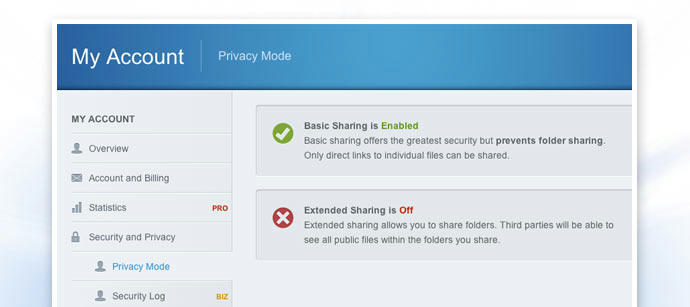 Despite being the simplest sharing system, security is always a top priority as we develop new tools. Here are just some of the security improvements we've made with the new version of MediaFire:
Security logs to track all changes to an account in multi-user accounts. This ensures if something disappears or changes the user can determine exactly who and when it changed. It's available only on Business accounts under the My Account section.
Access to My Account is protected by SSL security.
A new Session cookie soft-logs off a user after 90 minutes of inactivity.
Customization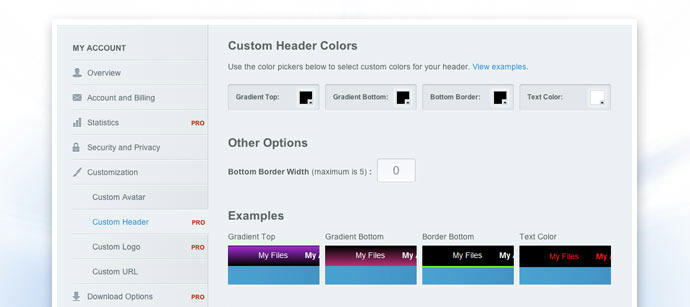 Customization has been something we've supported for a while now but with MediaFire "Spock" we're adding a few more bells and whistles:
Upload your own custom avatar image or import one from Gravatar.
Professional and Business account holders can change the header colors of their folder and download pages.
Professional and Business account holders can add a custom logo to their account which replaces the MediaFire logo in the navigation header.
Professional and Business Accounts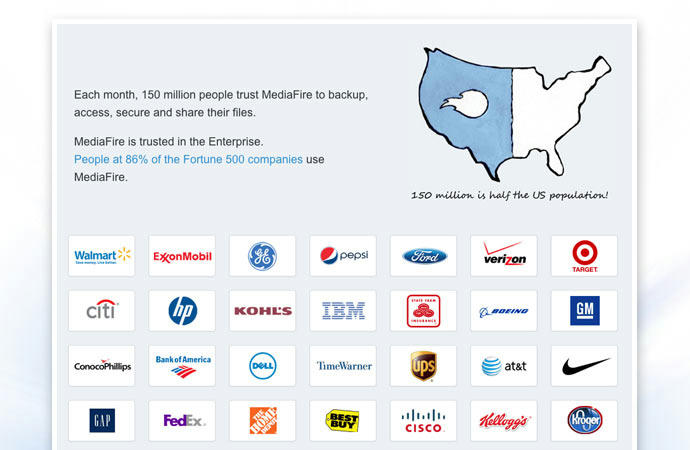 Last but definitely not least, we have changed and updated our MediaPro premium offering with two new types of accounts:
Business

Multi-User Login – Business class users can have multiple users sharing services and files from a single account. Groups or teams can create a business account and then add unlimited number of reads for sub users. Additional seats are much cheaper than for Professional accounts.
Business account customers receive a custom subdomain of their choice. When the subdomain is accessed a custom brandable login page is shown. All accesses are done through their subdomain.
Automatic Bandwidth Refill – When a Business account customer's bandwidth gets low, by default they will automatically be charged for more bandwidth in 100GB increments, insuring an undisrupted delivery of services.
Starts at 250GBs of download bandwidth.

Professional

All the features you've come to love in our pervious MediaPro Gold and Silver accounts.
Starts at 100GBs of download bandwidth.
This really is a huge update! As always, we're constantly improving the service and we love to hear your feedback so please don't hesitate to drop us a message with your comments and suggestions.
Tom Langridge – Co-Founder, Corporate Communications