Thumbnail View, Create Documents, and Image Enhancements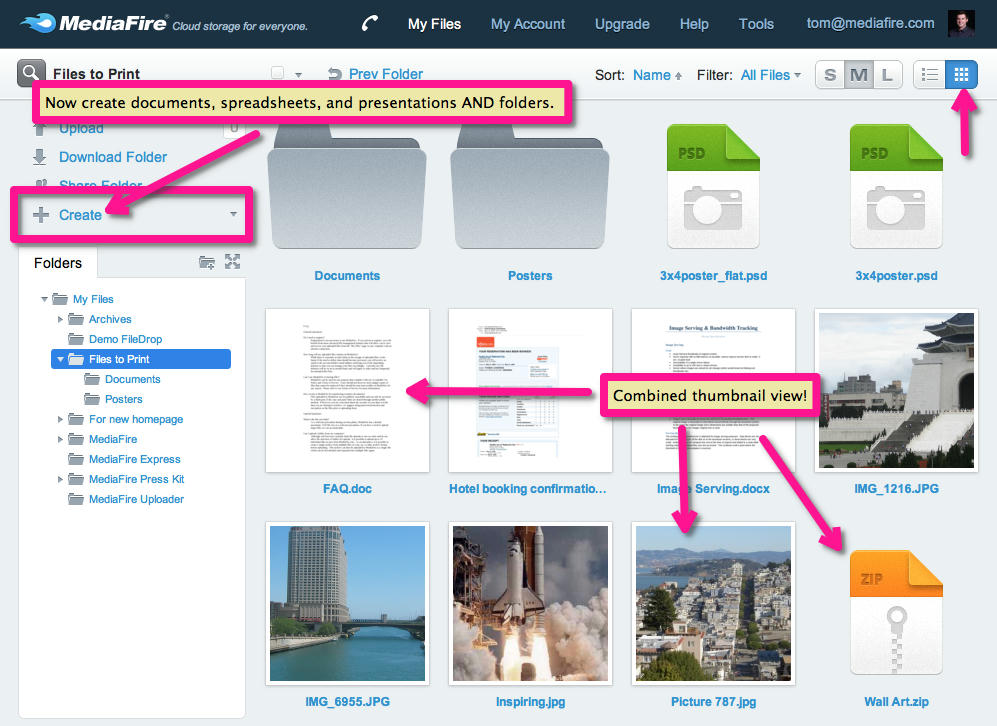 Hi everyone,
The dust has finally settled around our latest update giving me enough time to publish this blog post letting you all know all the new stuff we just released!
As we usually do around here at MediaFire, we've batched in a whole lot of new features and fixes into a major release again.
Here's the new goodness we've got this time:
Unified thumbnail viewer on the MyFiles page. Just like your OS file browser, icons, images, and documents now present themselves in a uniform way in thumbnail mode.
Create new documents, spreadsheets, and presentations from a simple, new menu on the MyFiles page.
Invite others to collaborate on documents with automated email notifications. Enter email addresses into the collaborate box and it will email each recipient with their own collaboration link.
Upgraded document, spreadsheet, and presentation editor. (Internet Explorer 8 is no longer supported.)
New Help Tab on the MyFiles page provides convenient access to Knowledge Base and Support.
MyAccount page provides a visual representation of total storage used.
Collaboration and 1-Time Download dialogs let users know their daily limits.
The 1-Time Download system has been upgraded to support e-commerce transactions. (Documentation of API has also been updated)
Upgraded image conversion and compression system – images are now displayed in higher quality, correctly sized, and load even faster on your My Files page and in your image galleries.
More coming soon!
Tom Langridge – Co-Founder, VP Product and Communications