New Storage Plans: Get 1TB of Cloud Storage for Just $2.50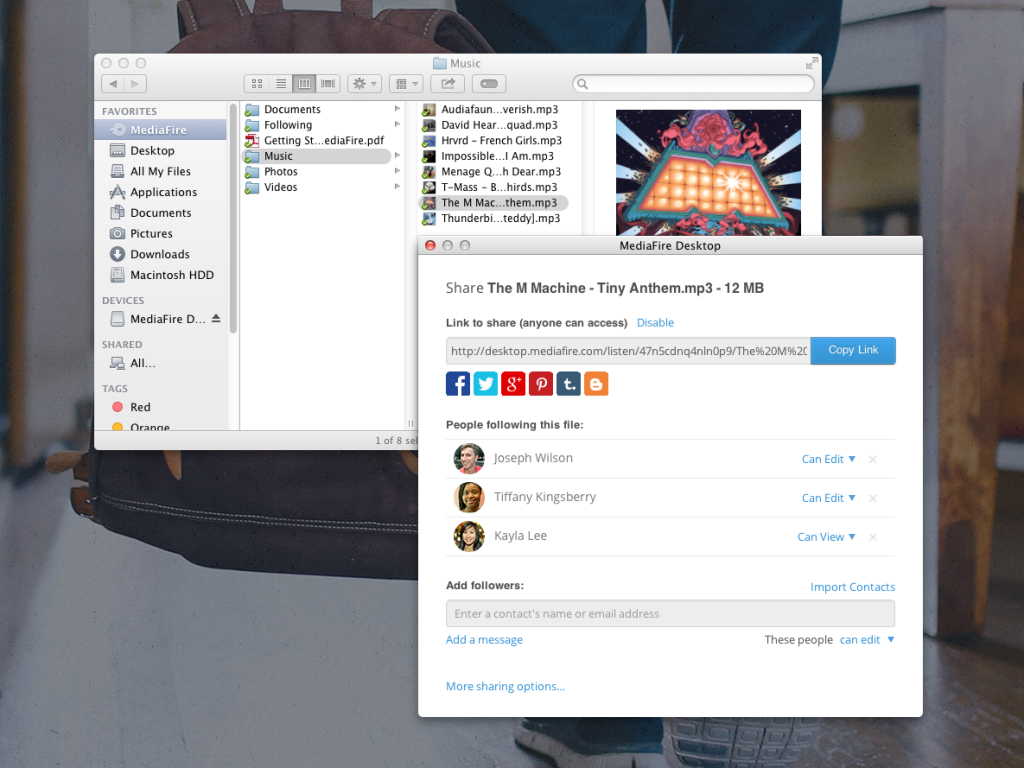 Today, we are excited to  announced the public release of MediaFire Desktop, a free application for OSX and Windows that enables users to instantly share, upload, and store their media in the cloud, directly from their desktop and Mobile Devices.
Since we launched our beta in November, over 2 million MediaFire users have used our desktop app; providing helpful feedback to our team as we have added new features and improved performance. We couldn't have reached this important milestone without your support! (special thanks goes out to Jared Newman from Time Magazine, who pushed us to go the extra mile!)
To celebrate our official launch, we've completely overhauled our consumer cloud storage plans, giving users one terabyte of cloud storage for only five dollars a month. Now users can safely store and share all of their photos, videos, and files in the cloud, without having to worry about file size limits. As an added bonus, for a limited time, MediaFire is offering half off all storage plans, enabling new users to sign up for just two dollars and fifty cents per month!
We've also listened to our community, and are announcing several major updates, including:
No file-size upload limits: both free and paid users can upload individual files up to 20 gigs in size (When using native 64 bit browsers such as Firefox).
 A major update to MediaFire Desktop: Our latest update officially brings MediaFire Desktop out of Beta, squashing bugs and delivering major speed upgrades and stability fixes. To download MediaFire Desktop, visit: https://www.mediafire.com/software/desktop/
Upcoming Native apps for iPad and Android:  These will be available over the next few weeks, and will introduce a host of new features, including automatic photo syncing directly from your Android mobile device. For early press access to our private betas, email Brent@mediafire.com
A complete overhaul of our API's and Developer Resource Portal: Our new API's enable web developers to quickly integrate MediaFire Storage and file sharing directly into their applications. Visit our developer portal here: http://www.mediafire.com/developers/
Native SDK's will be coming for all major platforms and languages. For more information, or to enroll in our beta development program, email developers@mediafire.com
Over the next few months, we will be launching several new and exciting products, including new and updated applications for iPad and Android (A screenshot of our iPad App can be found above).
Stay Tuned!
-Best,
The MediaFire Team
FAQ:
How Can MediaFire Afford to Offer Users Such Lucrative Prices?
We operate and own all of our own servers and network infrastructure, which allows us to undercut our competitors when it comes to cost. Many of our competitors rely on AWS, which is both cost prohibitive, and introduces potential security and privacy vulnerabilities.