New Look, New Features… Introducing MediaPro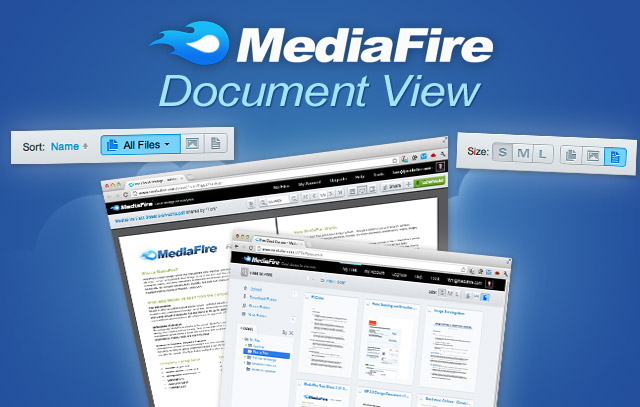 It's been an exciting few months since our last major update, we've been concentrating on growing the website to accommodate for the massive demand and traffic. We're proud to now be serving our almost 2 million registered users and we've been working hard behind the scenes to support the features that you've all be requesting. Many of you have probably already noticed the most obvious of these upgrades – the new flash multi-file uploader, which now allows the selection and upload of hundreds of files at once. We've also launched many other advanced features and small upgrades, including many as part of our new MediaPro service that is designed to provide the powerful and advanced features that our business and professional users have been requesting.
All accounts get these new features:
Direct URL: Allows you to create your own unique MediaFire URL that directs to a folder of your choosing within your account.
Thumbnail images in gallery view: Allows you to mouse over the small image thumbnails to view a larger version.
Image preview scrolling:  Image previews scroll down the page as you navigate your large folders of images.
MediaPro accounts get these additional new features:
Direct linking: Allows you to bypass the file download page and initiates downloads directly.
2GB maximum file size: Allows you to upload files from your local computer up to 20 times larger than free users.
Rollover bandwidth: Applies any unused bandwidth at the end of a month to the next month.
Advertising free: Means you and everyone working with your files will not see any advertisements.
Redundant backups: MediaFire will keep redundant copies of all of your data stored in your MediaPro account.
SSL encryption: Allows you to securely log in to upload files and manage your data while preventing unauthorized users from accessing your account.
Advanced statistics: Allows you to view who is accessing your files though a set of easy to use filters.
Over the next couple of weeks we'll be doing occasional posts to detail more about some of these new features and the benefits they can provide you. As always, we'd love to hear your feedback on the new system, so please feel free to tell us what you think!
Cheers!
– Tom