Introducing MediaFire for Apple TV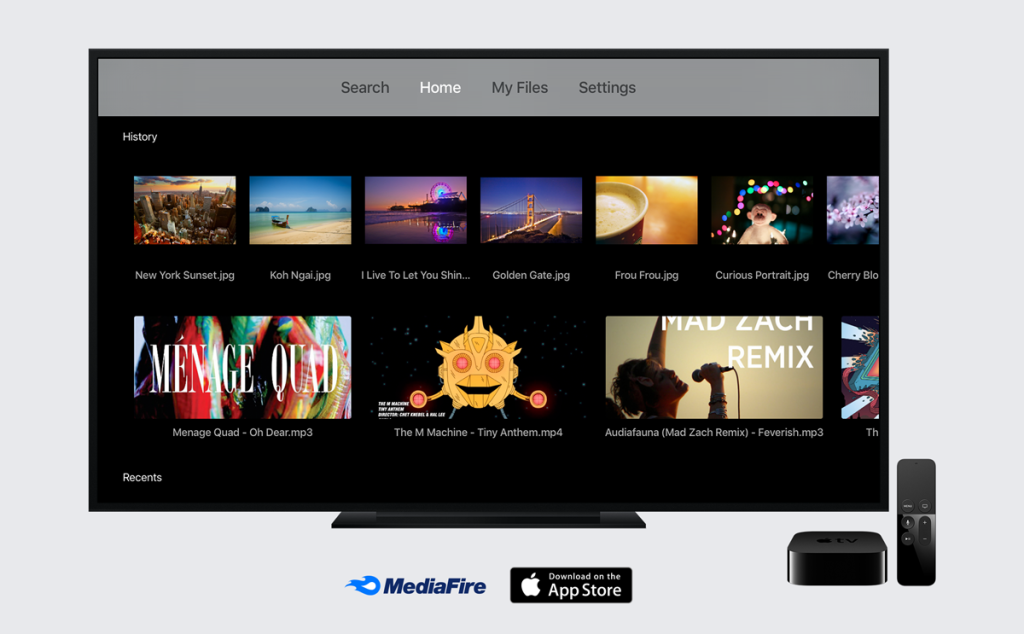 Today, MediaFire is proud to announce the launch of our new app for Apple TV. All your media, on the big screen.
At MediaFire, our goal is for you to have the ability to access all of your media anytime and anywhere. We make it easy for you to upload, organize, and share all your media through your phone, computer, or the web. Your files are stored securely and privately in the cloud and are always available to you. And now – with MediaFire for Apple TV – stream your videos, listen to your music, and enjoy your photos all on the big screen!
Download MediaFire on the App Store on Apple TV.
MediaFire for Apple TV showcases your media in a clean, immersive design. The Siri Remote allows you to touch and navigate your media with an experience that feels both natural and fluid. Watch videos, browse photos, and stream music stored in your MediaFire account on your TV.
Go ahead, download the app today to enjoy your MediaFire library right on your TV for you – or everyone – to see and hear.
Don't have a MediaFire account yet? Sign up for a free 10GB plan now or in the app! No credit card required.
MediaFire for Apple TV joins our increasing collection of apps for any device you may have – iPhone, iPad, Android, Blackberry, Windows Phone, Mac, or PC.
Our team is excited about this new way to experience your media. We hope you love MediaFire for Apple TV. As always, we'd love to hear your feedback, so let us know what you think!
Search for "MediaFire" on the Apple TV App Store.