Get the Most out of Your Cloud Storage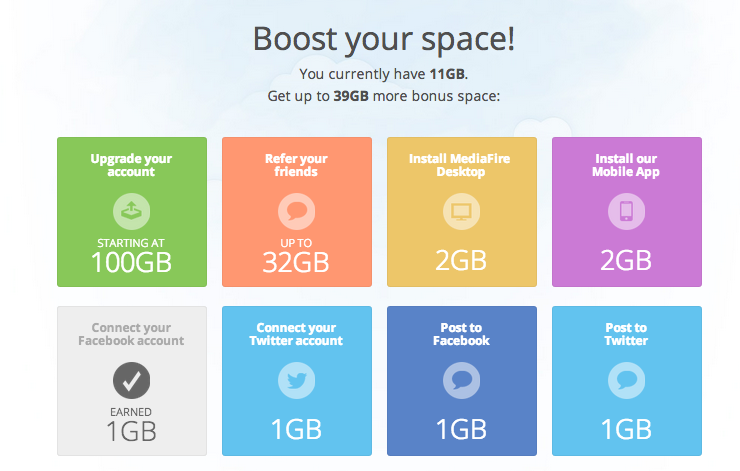 At MediaFire, we're passionate about online storage. Whether you're looking to share a huge file online or backup your files to the cloud, MediaFire makes it simple to get the job done.
What you might not know is that MediaFire has several advanced features that can make your life even easier. We've put together a list of our top recommendations for getting the most out of your cloud storage.
1. Download our apps to get more free space
MediaFire gives you 11GB of free space, as soon as you sign up, but did you know that you can get and additional 4 gigs of space just for connecting and posting to your twitter and Facebook accounts? You can also receive an extra 4 gigs by downloading and installing our desktop and mobile applications, and can fully max out your free storage (to 50 gigs) by getting your friends to sign up.
To track your free storage progress, visit https://www.mediafire.com/earnspace/
2. Automatically sync your music and videos to the cloud using MediaFire Desktop
Available for OSX and Windows, MediaFire Desktop makes it easy to back up and sync your music and movies to the cloud, so that you can access them from anywhere through any device.
The simplest way to get all of your media into the cloud is through moving your existing iTunes library into your MediaFire Desktop shared folder. This will enable you to automatically sync your iTunes playlists, movies, and music between several computers (at home and at work for example), and will insure that all of your media is automatically protected in the cloud.
To do this, you'll need to move your library into the MediaFire Desktop folder, then point iTunes towards its new location — hold down the Shift key when launching it on Windows or the Alt/Option key on a Mac to do this. Once your library has uploaded (we recommend setting your computer to do this overnight), you're ready to set it up on another computer.
Need to use the internet while you are syncing media? MediaFire Desktop uses a smart-uploading speed detector, which will automatically slow down or speed up uploads and downloads based on your bandwidth use.
3. Instantly recover deleted files
Did you accidently delete an important file? Unlike other cloud storage services, files that are deleted on MediaFire are automatically moved to your "trash" folder, where they can be accessed and recovered at any time. To restore a deleted file, login to our web interface and click on the "trash" folder. You can restore individual files, or click the "restore all" menu item to bring any folder back.
4. Share and collaborate on files with friends
MediaFire's "shared folders" feature makes it east for you to collaborate and share files with friends. To use this powerful feature, when someone sends you a file using MediaFire, simply click the "Follow" button in the top corner. The files will instantly be added to your "following" list in your MediaFire home folder. If you have MediaFire Desktop, any files that you are "following" will be automatically downloaded and synced to your desktop.
5. Easily share large files and folders
MediaFire was originally developed back in 2006 as a simple solution for sharing large files online. We've recently added several new features that make sharing files with others online easier than ever, even if the person you're sharing with doesn't have a MediaFire account.
With MediaFire Desktop installed, you can you can share any file or folder located in your "MediaFire" folder (located in your favorites list) by right-clicking it and choosing "Share through MediaFire". This will bring up a menu detailing the different file sharing options available, including sharing through Facebook, Twitter, Google Plus, Pinterest, Tumblr, and even Blogger. You can also add a contact's name or email address directly to add them as a "follower" to a file, and can even generate a one-time download link for sensitive files.
6. Sync files selectively to your desktop from the cloud
When you first install MediaFire Desktop, you are able to select which files you would like to sync locally to your computer. However, if you change your mind, you can always add or remove which files are synced through the options menu in MediaFire Desktop. Simply select the "sync folder" option in settings to update your selected files.
7. Follow MediaFire on Twitter and Facebook for the latest app and feature news
At MediaFire, we are always looking to launch new and exciting features and apps. We have some exciting features planned over the next year, including automatic photo and video syncing, and several new "top secret" applications and services designed to make your life easier. Make sure to follow us at @MediaFire on Twitter and MediaFire on Facebook for the latest and greatest news!