It's the Ping-Pong-a-thon!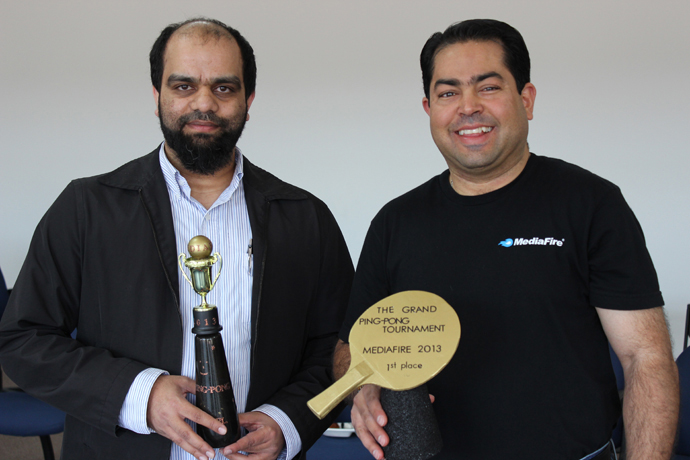 The very end of last week was marked at MediaFire with a special event – the Grand Ping-Pong Tournament 2013, or the way many of us refer to it, the Ping-Pong-a-thon. There are quite a lot of avid Ping-Pong players in our team, but the trophies this time went to Erick and Ahmed. Congratulations!
This was a long and heated battle; both contestants demonstrated the highest level, and each gave it their best shot – literally! Everyone here at MediaFire gathered around the Ping-Pong table last Friday to cheer for our two best players, as well as to grab some delicious real Texas BBQ!
A special thanks goes to Jenifer for preparing those original DIY trophies, to Mike for being the referee of the Tournament, and of course to MediaFire for providing us with everything necessary for this event! We all had a great time, and we sure are looking forward to the next Ping-Pong-a-thon!
And here's everyone who participated in this 2013 Ping-Pong-a-thon (except for Veronica who was the photographer for the event).
Want to become a part of the MediaFire team, and see yourself among these happy faces? Then don't hesitate to stop by at our jobs page, and apply today!
The MediaFire Team