MediaFire Express 0.13 – Now With Screenshot Annotation!
Hi everyone!
We are pleased to announce the release of MediaFire Express 0.13!  This new release includes a vastly improved screen-capture tool which makes sharing and annotating screenshots a breeze.
You can download MediaFire Express here: http://www.mediafire.com/software/express/tour.php
Let's say you're trying to explain a problem with your application to tech support and they aren't getting what you're trying to tell them? Take a screenshot of the problem, highlight the area where the problem appears, add text pithily explaining what it all means and draw an arrow from the text to the highlighted area.
On a more mischievous note: screenshot a funny picture, add your friends name to it and email it to your group. Or use the highlight tool to draw a mustache and Captain Morgan hat on a celebrity.   Take a screenshot of a group picture from your company's website and add the caption "Where's Waldo?'     (Tip: Google "Funny screenshots" for more ideas for ways you can amuse your friends and annoy your enemies with MediaFire Express' screenshot annotations.)
Here's a quick demo of how it looks: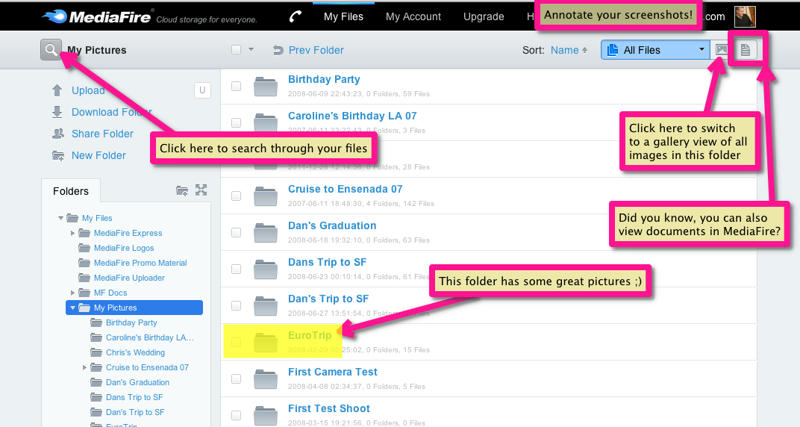 In addition to the annotations, we fixed a few bugs and added a couple more features so make sure you update your MediaFire Express to take advantage of all the new goodness.
Here's a list of everything that's new in this version:
New features:
The Screenshot tool has received a major increase in functionality.  Now the screenshot tool enables the user to annotate screenshot images with arrows, text, boxes and highlighting areas (e.g., text.)  Adding the ability to emphasize areas of interest greatly increases the value and utility of taking screenshots.
User can now select the destination MyFiles' folder when a file is uploaded.  Users can disable this feature via the "preferences" tab.
Now the context sensitive popup menu no longer shows the "Upload to MediaFire…" menu item after the user terminates Express.
Now the blue button on the status panel that shows the list of pending uploads is removed when no uploads are underway.
Now the Status Panel's cancel button will close the Status Panel if no uploads are underway.
Bug fixes:
Previously the systray menu was occasionally (and randomly) disabled after the user logged-in.
Previously the display of folders would be incorrectly displayed if the user had a high number of folders within MyFiles
Previously, under some conditions, the Password Strength indicator would incorrectly show "too short."
Express supports neither OS X 10.4 nor OS X 10.5.  Now attempting to install Express on these OSes will generate a dialog explaining that Express cannot be installed.
Now the user is prevented from creating an account with the following unsupported characters: '', '<' and '"'.
Now the password field in the Account Setting dialog is limited to 15 characters, as per the website's limitations
Now Express will no longer incorrectly log a person out if it is started when the network is down
Now Express will no longer truncate the list of folders presented to the user when the number of folders within MyFiles is over something like 200 folders.
Now folder names with an ampersand (&) are no longer truncated at the ampersand (i.e., "Home & Garden" no longer becomes "Home".)
Make sure to download the latest version (0.13) here: http://www.mediafire.com/software/express/tour.php
Keep the feedback coming!
The MediaFire Team