Sunday, September 28th, 2008
Hi Everyone,
We rolled out a visual update to the My Files page today.  It's been a while since we made any significant updates to the My Files page simply because it's been working so well for everyone. As the site develops and grows however we're making room for new features and improve on the foundation we've set.  You'll notice that the refreshed version is significantly cleaner as we've reorganized the placement of basic file information from columns to the right of each file to a less obtrusive list below the name.  In addition to simplifying the appearance of the page, this update will set the foundation for additional functionality and features. It's the first in a series of updates to the file management system that we'll be releasing in the coming weeks.  If you haven't seen the new design, just head over to your My Files page or check out the screenshot below.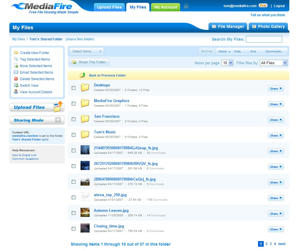 Let us know what you think! We'd love to hear your feedback so that we can further improve the file management system as we continue to add additional features.
- Tom